Client Success - Just Cabins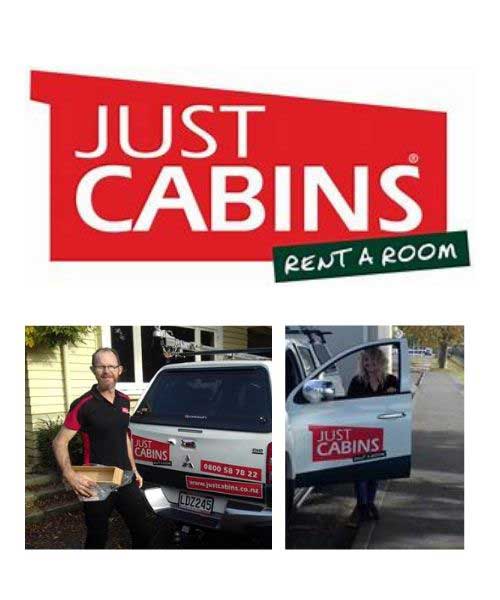 Rewind to 2017 and Johnny Ryan and Phillipa Harper were keen to own their own business. A chance conversation with friends led them to look at Just Cabins: a franchise network across New Zealand. Their friends, Roger and Helen Stonehouse already owned the Just Cabins Hawke's Bay territory but were keen to split the area in two. Whilst Johnny admits that the idea of a franchise (and having to meet franchisee conditions) had never appealed before, they quickly saw the benefits.

Just Cabins are portable cabins that are fully wired, insulated and readily transported to a customer's site. The franchise is currently owned by Fenton Peterken who has built it up into a very successful, nationwide business. Just Cabins has won the Westpac Lifestyle Services Franchise System of the Year award for the last seven years and last year took out the Supreme Award for both franchise and franchisee.

Johnny has come to appreciate the strength of this franchise structure and admires how the franchisor runs the business: it's a tried and true system, provides a framework to help franchisees, and offers nationally recognised systems and rules to help make better businesses. Last month Johnny and Phillipa attended their second national Just Cabins conference and say that it's lovely to be part of a large group of similar people, able to share successes and challenges. They also regularly catch up with Roger and Helen who still run Just Cabins Hawke's Bay North.
Johnny and Phillipa have now owned the Hawke's Bay South franchise (spanning Havelock North and Hastings, south to Dannevirke) since February last year. They think their area is great, in that it's mostly flat and takes approx.an hour to get from end to end. Phillipa and Johnny love living in Hawke's Bay and use their farm as the base for their business, including cabin storage, cleaning etc. and often it's a whole-family operation.

Where Johnny's days were previously filled with teaching primary school aged children, his working life is completely different now. A usual day can comprise of anything from being a handyman, painter, salesman, driver (constantly honing his reversing skills!) to providing quotes and doing the finances. Often he is working solo, and this was probably the one aspect that he was initially apprehensive about, however he is really enjoying the autonomy and change of lifestyle.

The business has more than doubled in size since February last year and whilst some of this growth has come from repeat business and referrals, the current New Zealand housing crisis is contributing significantly to the demand for cabins. It's an important issue for New Zealand and Johnny has seen some hardship that he wouldn't have otherwise been privy to. It's rewarding to feel that the cabins are helping to provide a cost effective, warm and dry solution to some of these issues.

Johnny says that they have got entirely what they were looking for in taking on this franchise – freedom and happiness. He enjoys every day and is deeply grateful for the opportunity. It's certainly been a steep learning curve, including education on running a business, finance and Xero software etc. Johnny and Phillipa are thankful for the support and advice that they have received from the franchise network, the team at PKF Carr & Stanton, and Aiden McLaughlin, their business manager at Westpac.

Future goals are to carry on expanding the business to allow both Johnny and Phillipa to work together and also grow in their wider community involvement.

If you are looking for extra accommodation and like the idea of dealing with someone whose mantra is to "treat everyone in the best way possible", give Johnny and Phillipa a call at Just Cabins.
See more Latest News items