Brendan Jackson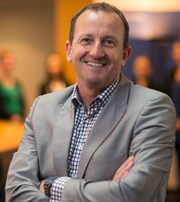 A firm hand on the rudder of any organisation is always necessary and Brendan has been in charge of the PKF Carr & Stanton ship, and the journey so far, since early 2011.
Although he started life in the chartered accounting world, Brendan's background is business management. He has honed his skills in his own businesses with a speciality in change management – a handy skill in any business, when the only constant is change.
He has a passion for people and his enthusiasm is infectious, with a management and communication style that ensures the entire team is informed and part of the journey.
Brendan is involved in several sporting clubs holding long term roles as treasurer, president and committee member.
Brendan is married to Suzanne and they have three boys. Outside of work he can be found on a paddle board, on skis, or even on a football pitch.